Frequently asked questions about High Performance Personal Training
Frequently Asked Questions
Q: What's the difference between Jason Kozma's High Performance Personal Training program and what other personal trainers provide?
A: 1. Most personal trainers train clients the same way they train themselves or all of their clients without any thought given to the uniqueness of the client's body. Their thinking is "If it works for me, it'll work for you." Unfortunately, most personal trainers have been training for many years and do not know how to teach a client how to get in touch with their body and feel their muscles perform the exercises properly. For you to shape your body, you must be able to feel and control your muscles. This is called the mind-body connection. I can teach you this.
2. Most fitness trainers have their clients perform the same workout every time, over and over again, for months or even years. My clients enjoy an ever- evolving workout that varies as their bodies and needs change. I see the body as ever changing. My instruction is not constrained by a certain rote series of sets, reps, and exercises. My clients improve quickly and safely.
Q: Why is Jason Kozma's High Performance Personal Training program more effective than other personal trainer or gym's fitness programs?
A: My personal training program is a results – oriented program. It focuses on how you look in combination with your health, strength and well-being. Most fitness programs emphasize improvement in athletic fitness and strength, hoping this will create the desired body shape. More often than not, it doesn't: you end up with oddly developed or an unchanged body and an unhappy client.
My program is designed to reshape your body. You will gain strength, be healthier, and more fit.  Together we will create the body you want.
Q: Why should I do Jason's personal training program?
A: Results!  Check out the client body transformations in the before and after section.  If they can do it, so can you!
My personal training programs combine weight training, cardiovascular exercise and a nutritional regimen. You can transform the shape of your body and dramatically improve your health, strength, and self-image. These techniques and my guidance enable my clients to lose (or gain, as the case may be) an average of 20 pounds in 8 weeks.
100% of my clients have lost weight (or gained muscle) after following my program within the first two weeks. Whether you are an advanced trainee or you have never stepped into a gym before, I can develop a program for you to get you to the next level of performance!
Even if you've never had success losing fat or gaining muscle before, my individually tailored program will work for you! Call now and find out how quickly you can get in the best shape of your life with the best personal trainer in Los Angeles – Don't you deserve it?
Q: I want a trainer to come to me, can you do that?
A: Highly likely.  We offer in home training nearby the above locations and most parts of LA including Beverly Hills, Bel Air, West Hollywood, DTLA, Pacific Palisades, Malibu, Topanga, the Southbay and West Valley.
Q: Do I need to join the gym where you train your clients?
A : Yes.  To do personal training with me personally, you will need a membership at my base gym.  You can pay by the day, but it is not cost-effective.
Our other team trainers also have base gyms, some of which also require a membership fee but that should not be a factor in your decision on training location.
Q: How much is the gym membership?
A: The gym membership fees depends on location and the length of membership you wish to choose:  At the gym I use near Santa Monica, a monthly membership for my clients is $30 initiation and $69 per month.
The good news is, the gym costs are insignificant in comparison to personal training fees.  Gym rates at other gyms with our other personal trainers are different.
In-home personal training is available in all nearby areas to base locations.
Q: How much does personal training cost?
A: Our personal training rates are within market average for the Los Angeles area.  I.E.: Not cheap.  The specific rates depends on the size and type of personal training package you sign up for and which trainer you train with.  You can view our current team trainer rates by navigating to this page and filling in the form.  You should plan on it being in the range of $100 per session or more.
For lower cost options you can inquire about semiprivate training sessions, online personal training or hybrid coaching.
Q: Do you have a gym or do you offer in home training?
A: Both. We have gyms and training studios in many parts of LA and are available for in home training / on location too. We'll even help you design your home gym or improve it.
Q: Where do you have gym / trainer locations?
A: Our home base gym is on the border of Santa Monica and Brentwood. We also have team trainers in gyms or training studios in Santa Monica, Venice, Marina del Rey, Pacific Palisades, Playa Vista, Beverlywood, Hawthorne, Rolling Hills, North Hollywood, Pasadena, Van Nuys and Woodland Hills.
Q: Would I be training with Jason or a team trainer?
A: That's up to you and scheduling circumstances. Jason is often but not always fully booked. Jason is also $$$. Contact us for details.
High Performance Team Trainers are the best and most experienced trainers in LA, bar none.  Jason only selects the top personal trainers in Los Angeles to be members of his team.
Q: I'm doing a starter program (1-2 sessions). Do I need a membership?
A: No. The single day gym fee is $22.
Q: How do I sign up?
A: You can sign up in person with Jason or online.  You can start with a trial session or jump into one of our personal training packages.  Just contact to get started!
Q: What is the nature of your diet?  Do you follow paleo diet or keto diet, intermittent fasting or other popular weight loss scheme?
A:  My unique diet uses small meals 5-6 times per day in order to stimulate your metabolism to optimize lean tissue and minimize fatty tissue.  The exact composition of your custom diet depends on your metabolism and body type. My diet plans are unique and do not fall into any current fad diet plan.
As every person is different, every diet is different.   Your individual diet will have certain amounts of proteins, carbohydrates, and fats.
Q: Will I lose weight just by doing the workouts?
A: A little but not the amount you are looking for.  To lose fat,  your body must be put under considerable duress.  The diet enables your body to lose fat and the exercise actually burns it.  Without following a proper diet,  your body cannot and will not burn significant amounts of fat.
Q: I saw an ad at the grocery store for personal training sessions for $20 – Why shouldn't I just sign up for these?
A: Because you'll get a $20 trainer. You wouldn't want a $20 attorney or doctor, would you?  Your trainer is responsible for your body in that session. Quality costs more, but it's worth it.
Q: Why not just sign up for personal training at my current gym? They have trainers there…
A: Many people that come to me have already gone that route. Now, if you have gotten to this point on my website and don't see the difference between big box staff trainers and me, go back and explore it fully. I refer you to my before and after photos, testimonials sections and feel free to look my google and yelp reviews.
Now, back to the trainer question.  Let's talk about large chain gyms like Equinox, 24 hour fitness, Bally's etc.: These gyms only allow trainers that work for them to practice on their floor. That means you purchase the sessions from the gym, the gym pays the trainer. Regardless of how much you pay the gym for the sessions, their trainers on average make about $20-$40 per session depending on the company and the trainer's experience. Thus, you are getting the attention of a $20-$40 trainer.  The gym keeps the rest of the fee.  See above.
My team trainers are the highest paid fitness professionals anywhere, period.  I have the luxury of working with the very best personal trainers in Los Angeles, bar none.
By the way, some of these outfits are selling you 30 minute sessions and acting like it's a real training session. See below.
Q: I keep seeing ads for 30 minute training sessions 3 times per week – Why shouldn't I just sign up for these?
A: That's simply not enough time or work to change a body or create significant fat loss. If you do, you'll be calling me later anyway. You've got to be willing to put in the time.  Once again, workouts alone will not change your body. You need diet, resistance training, and cardiovascular training.   Anyone who makes it sound easy is out to take your money and doesn't care whether you get results.
Q: I saw a website that says I can train for 20 or 30 minutes once a week and get in great shape – What's your opinion on that?
A. As they say, "If it sounds too be good to true, it probably isn't." Let me ask you; do you really believe you can get in shape by working out once per week? It's downright silly.
Q: How are your personal trainers qualified?
A: I require that a trainer has at least 10 years of personal training experience before I will even consider them to join my High Performance Personal Training Team.  In addition, they are required to receive additional training with me to insure that the client receives the High Performance program.  Most of my trainers have in excess of 20 years experience as well as competitive athletic backgrounds.
If you haven't read up about me, Mr. America Jason Kozma please do so now on my "About Me" page.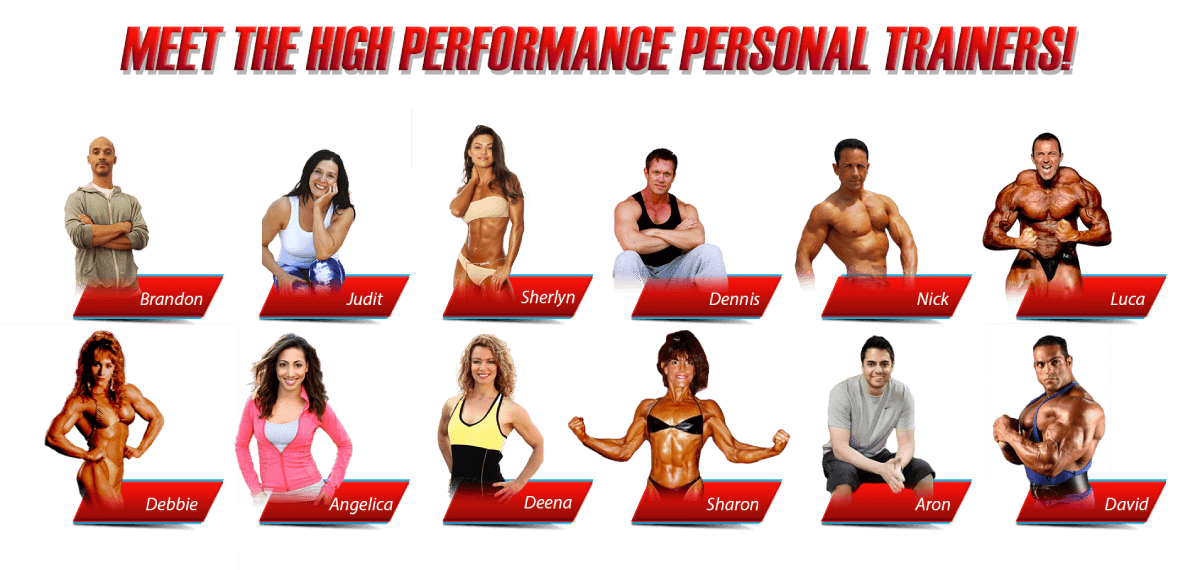 Q: What about the infomercials that say "Eat anything you want and still lose weight"?
A: Lies designed to take the money of the naive. Nothing more.
Q: I'm planning on signing up with my spouse/fiance/partner/friend. Is there a discount for couples?
A: Yes. We have a couples training deal or you can split a large personal training package between you two. I'll explain the details when we speak.
Q: I don't live in Los Angeles but I want a body transformation like your clients have enjoyed.  How can I benefit from your genius?  
A: Great news true believer!  We also offer virtual personal training and online personal training + nutritional programs for body transformation, rapid weight loss, muscle building, bodybuilding, physique and bikini competition, strength training, anti-aging and more.
Go to the online personal training page and sign up!