Los Angeles Sport Specific Training
Sport Specific Training in Los Angeles, CA
Professional athletes such as Marshall Faulk of the St. Louis Rams, Hideo Nomo of the Los Angeles Dodgers, Lovianne Jung of USA softball, Cho Sung Min and Jung Min Chu of the Yomiuri Giants have entrusted Jason with their off-season strength programs.
Student athletes from UCLA, USC, local High Schools train with Jason and his High Performance Team Trainers regularly for a competitive advantage and safe training environment.
Jason has created an integrated program utilizing strength training, sport-specific exercises, plyometrics, core and flexibility training to help you improve your performance in any sport: baseball, basketball, football, golf, martial arts, volleyball and any sport where strength, balance and explosive power are advantageous. Recommended 3 to 4 sessions per week.
Injuries? Jason and his trainers know how to train around common sports injuries such as knees, lower back, shoulders, and hands.
Jason has trained numerous athletes involved in such sports as professional football, baseball, basketball, competitive skiing, swimming, volleyball, golf, race walking, marathon, triathlon, martial arts, boxing and obstacle course.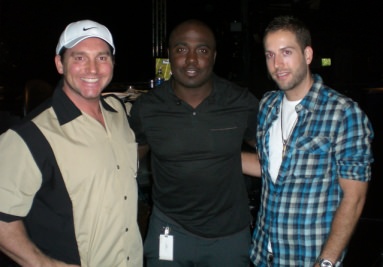 Whether you are professional athlete, weekend warrior, student or anything in between, Jason and his High Performance Team Trainers are your best choice for sport specific training in Los Angeles.
Jason and his team will analyze your strengths and weaknesses and devise an effective and efficient training plan to elevate your performance to the next level.
Contact us now or read more below!
Hideo Nomo Trained with Jason just prior to the Red Sox' 2001 season when he pitched a no-hitter.
Hideo Nomo trained with Jason for just 3 weeks in preparation of the Boston Red Sox 2001 season.
"Hideo came to me with several nagging injuries that were negatively affecting his pitching ability. I trained him for 3 weeks, strengthening and rehabilitating his injuries. Hideo's strength, power and athleticism improved threefold.
Hideo went on to have his best pitching season in many years, including pitching a no-hitter.
He was able to secure a trade to the LA Dodgers for the next season with a significantly more lucrative contact."
Contact the best personal trainer in Los Angeles Jason Kozma for a sport specific training routine that will radically elevate your athletic performance.
Remember a chain is only as strong as its weakest link!  In addition to his experience as a champion bodybuilder, Jason is also a black belt in Wado-Ryu Karate.
For athletes in team and individual sports, personalized sports strength training is a great way to get ahead of the competition. Mr. America Jason Kozma can help you reach the next level of performance!
How can sports strength training help you?
Increase strength and muscle mass
Improve coordination and speed for sport-specific actions (swinging a bat)
Develop explosive power
Increase stamina and overall fitness
Improve agility and quickness
Everyone of Jason Kozma's clients receives an individualized program created to suit their unique needs — not a "cookie cutter" program! Athletes will be taught proper form as they learn techniques to improve athletic performance, and all programs include flexibility training to prevent injury.
Strength training for the following sports:
Football
Baseball
Basketball
Wrestling
And More!
Sports nutrition counseling is also available to help athletes enhance their performance. Athletes have unique nutrition needs and as a certified professional, Jason can assemble the best daily nutrition program for athletes of all ages and sports.

Don't put off your success any longer! Contact us today to get started on a sport-specific training program that will help you achieve your goals!

function init() { var vidDefer = document.getElementsByTagName('iframe'); for (var i=0; i