Personal Trainer Pacific Palisades
Personal Trainer Pacific Palisades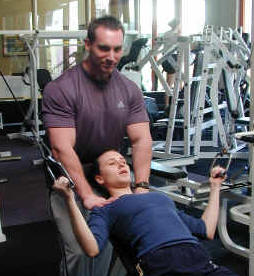 Whether you're looking for in-home personal training, in-home yoga instruction or private training at a gym, the High Performance Personal Training team is here to get you into the best shape of your life.
Jason Kozma and his team of personal trainers, yoga instructors and nutrition coaches, will create a personalized workout and nutrition plan to help you meet and achieve your specific fitness goals. Our trainers and coaches help you stay on track by establishing goals, monitoring progress and constantly adapting your workouts to achieve maximum results.
Many of our clients prefer to work out in the privacy of their own homes, and on their specific schedules. Busy professionals, athletes, celebrities and stay at home parents don't necessarily have the extra time to drive to a gym, work out, shower and get ready to go on with the rest of their day.
Our team of in-home personal trainers and yoga instructors will schedule your sessions at times that are most convenient to you. Let us bring our professionals to your home. We can work with your existing equipment, bring our own, or even help you design the in-home gym of your dreams. We also have a beautiful, full-size gym in Santa Monica with state of the art equipment if you prefer to train on-site with one of our trainers.
We customize your workouts to meet your personal objectives. Whether it's weight loss, fat loss, general fitness, building muscle, toning up for summer or sports conditioning, our trainers work with you one-on-one to give you rapid results. We also create customized nutrition and meal plans using whole, nutritious foods, realistic portions and balanced proteins, carbohydrates and fats to melt off fat and excess weight. We can even provide a meal delivery service which adheres to our nutritional guidelines.
Many of our clients travel frequently for work or pleasure and are in need of a program that can travel with them. Our program has an online personal training component which allows you to take your trainer with you wherever you go. We help you stay on track with your workouts and nutrition plans with online monitoring and face to face check-ins. We can even coach you through your workouts in real-time, thanks to modern technology. Now you have no reason to skip a workout when you're on the road.
Whatever your health or fitness goals, our High Performance Personal Trainers will help you meet and exceed your expectations. Contact us today to schedule an initial consultation and get into the best shape of your life.
Meet Some of Our Pacific Palisades Personal Trainers
Motivation and a Pacific Palisades Highlands Personal Trainer Will Get Your Body Back!
Expect Great Results with our Pacific Palisades Personal Trainers
If you want to look great, lose weight, and firm and tone your muscles, choose the High Performance Personal Training Team. With personal trainers available in Pacific Palisades, Santa Monica and Los Angeles, we have one that can come to your location and develop a program that will help you get in better shape than you ever thought possible before.
Best Personal Trainers in Pacific Palisades
Team Leader Jason Kozma is a former Mr. America who is based out of Santa Monica. He has more than 20 years of experience helping clients get in the best shape of their lives. Check out our client before and after photos and testimonials sections.
Pacific Palisades and Pacific Palisades Highlands personal trainers
High Performance Team Trainers on the west side include Team Leader Jason Kozma, Sherlyn, Brandon, Deena, Terrance, and more. Gym training is available in Santa Monica. In home personal training is available in Pacific Palisades.

function init() { var vidDefer = document.getElementsByTagName('iframe'); for (var i=0; i