Bikini – Figure – Physique Coaching with Mr. America Jason Kozma | Los Angeles Bodybuilding Expert
You've Finally Found The Ideal Bikini and Figure Coach in Los Angeles
What does it take to participate in women's bikini or figure competitions? Is it something more than just looking great in a bikini? Well, as Mr. America, Jason Kozma, would say "a great, overall toned, shapely and defined physique and confident stage projection are what you need to compete and win a women's bikini competition." Why take Jason's word on this? As a competitive bodybuilder, personal trainer and nutritional coach, Jason has had tremendous success with preparing his clients for all types of bodybuilding, physique, bikini, figure and fitness competitions.
Figure Competition Training
Have you ever wondered what it would be like to take part in women's figure competition? Would you like to do it? Or maybe you just want to look like someone who could compete in a bikini contest.
Whether you want to train to compete or just look like you did, you came to the right place. I'm here to help you achieve your goals.  I can guarantee you success.
If you really dive in and learn how to train with my method, you'll experience the types of gains you never thought were possible. You're going to get totally addicted to it. It may seem complicated at first, but it really isn't, especially since I'm going to be coaching you through it all, making good on my guarantee.
Jason's Champions: Do You Have What It Takes?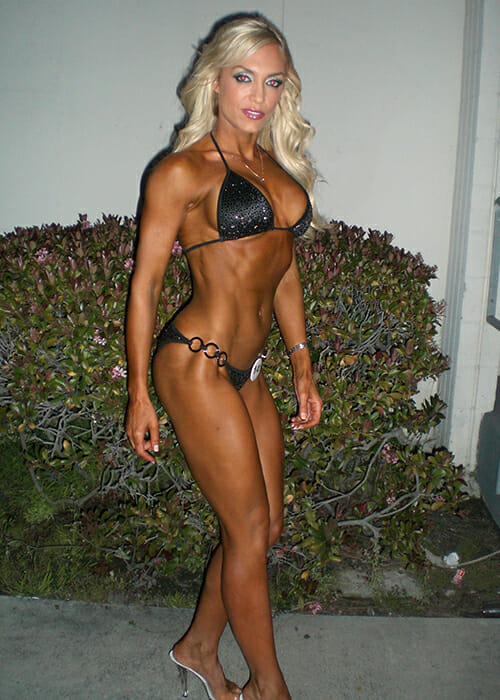 Women's Bikini and Figure Coaching
More and more women are committed to health and fitness these days. There are many great ways to get in shape and feel healthy. However, any serious fitness and figure competitor knows what the judges look for in competitions: toned, defined, balanced musculature, a lean physique and good proportion between legs, torso and arms. There's only one way to achieve this type of physique: weight training. And there's only one way to sculpt your body into the aesthetically pleasing shape a judge requires: serious personal commitment and a great trainer to help you accomplish this.
It All Starts with a Photo
Giannci: 1st runner up, 2010 NPC Musclecontest Bikini start / finish
If you want to learn more before making your decision, just send in a photo. Jason will give you an honest review of what he sees. He will tell you what he feels you need to work on to get your body in competition ready shape and he will also give you advice on the shows and divisions where you have the best chance. In addition, he will give you some idea of the changes you will soon see when you work with him.
Even if you're not interested in competing, but just want to look like you are, then Kozma and his team can help you with that also. Choose from online personal training and nutrition, full time gym training or part time (1-2 sessions per week).
Jason has trained many successful women competitors including:
Diana (2011, NPC Tournament of Champions 1st runner-up)
Giannci (2010, NPC Musclecontest 1st runner-up)
Hanna (2008, Ms. Muscle Beach Figure Winner)
Lejla, (2006, Ms. Figure America Winner NABBA)
Karla (2005, Highland Half Marathon Champion) and
Gale (2003, Venice Muscle Classic Winner)
If you're ready to be the next bikini and figure champion or even if you just want to look like one, contact us today and become a more beautiful you, tomorrow!
Some more of Jason's Competitive Clients:
Esther – Venice Muscle Classic 1st place
Roxanne – Miss Galaxy Fitness
Larry – Musclemania California 1st runner up
Emily – Musclemania Fitness and Ms. Figure America
Anthony – Mr. Tennessee Natural
Don't want to train with a dude? That's sexist. But fine! Here you go…
Female Personal Trainers for Women's Physique, Figure and Bikini Coaching
You look fabulous in a bikini, you're tanned, and your hair has the perfect streaks from the sun, but are you competition ready? For many women, the answer to that question is a resounding, no! Beach ready, maybe, but a bikini or figure competition is a whole other ball game. Here are five reasons you should work with a professional bikini and figure competition coach to get your body ready. Even if you're not interested in becoming a competitor, you'll reap the benefits.
Encouragement & Support
One of the hardest things for a lot of women, when it comes to exercise and fitness is motivation. It's a pain to drive to the gym to work out, especially if you're pressed for time. When you work out alone at home, it's easy to blow it off or not put in as much effort. With a coach that comes to your home or other location and insists that you do the work, you're not going to lose momentum. We all need encouragement and support and sometimes that comes in the form of a strict, tough coach that relentlessly drives you onward.
Experience In Competition
In a bikini or figure competition, the judges aren't looking for bulk, they're looking for the perfect shape, curves and lines, symmetry and overall muscle tone. A professional coach like Jason Kozma not only knows what the judges want to see, but he knows how to get there. Many celebrities and average people have benefited from Jason's unique and effective approach to fitness. As Mr. America, Jason has personal experience in the world of body competitions, and he has a huge amount of knowledge about bodybuilding, nutrition and more.
Attitude Adjustment
As with everything in life, how you perceive the situation is going to have a major impact on how well you do. When you first start out, you're more than likely motivated by wanting to feel more confident about your body. As you progress with the help of a professional coach, you'll gain a whole new appreciation for your body and your entire attitude will change. Losing excess weight, toning your muscles and improving your overall health will not also help you in your professional and personal lives. A higher level of self-esteem and confidence will show through in everything you do.
Feel Young & Energetic
Time has a way of taking away our youth and the energy that comes with it. There's no reason to give in to the effects of aging, in fact, you can fight it all the way. A proper diet, adequate supplements and a physical fitness routine that's done in a safe, way will increase your energy level and bring back your youthful appearance. In a bikini and figure competition, especially, youthful vitality are important factors that you'll be judged by. But, as you know, it's also important on the beach, at work and out on the town. That young-looking, perfectly toned body will serve you well in all facets of your life.
Bikini and figure training with a professional, experienced coach will make the difference between entering a competition and winning. Getting in the best shape of your life, feeling younger, more energetic and happy are all the benefits you'll see. Contact us to find out more about Jason and his team's exclusive services. Your perfect body awaits you.
Just contact Jason to get signed up!
ABOUT JASON KOZMA – Mr. AMERICA
Jason Kozma Contest History
Year
Class
Placing
Knoxville Bodybuilding Championships
1989
Teen 15-17
3rd
Tennessee Bodybuilding Championships
1989
Teen 15-17
3rd
Kentucky Derby Bodybuilding Championships
1990
Teen
heavyweight
2nd
Kentucky Derby Bodybuilding Championships
1991
Teen
heavyweight
1st
Tennessee Valley
Bodybuilding Championships
1991
Teen
heavyweight, Novice light-heavyweight
1st and overall
teen, 1st novice
Southern States Bodybuilding Championships
1991
Teen
light-heavyweight
1st
Orange County
Bodybuilding Championships
2003
Heavyweight
3rd
California State Bodybuilding Championships
2003
Heavyweight
3rd
San Francisco Bodybuilding Championships
2004
Heavyweight
2nd
Mr. America
Bodybuilding Championships
2004
Heavyweight
1st
Mr. Muscle Beach Bodybuilding Championships
2007
Super
heavyweight
1st
Jason Kozma Photo Gallery
Online only options
4 weeks online personal training program $279


*$199 per month thereafter

8 weeks online personal training program $459


*$179 per month thereafter

16 weeks online personal training program $629


*$129 per month thereafter